Sidemount – Steamline Your Diving With Dive In Limassol This Year
Our PADI Master Instructor Alex Miodrag is back with Dive In for the Summer of 2017, and this year he has added to the Specialties he can teach, Sidemount and Full Face Mask.
Dive In's  feature diving for 2017 is Sidemount and Alex will be available to teach you how to get the very best from Sidemount diving. He will teach you all about the many benefits of diving with Sidemount, homing in on your existing diving skills, and perfecting them whilst having fun.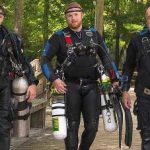 Your will learn how to;
Properly assemble and set up your Sidemount scuba diving equipment, correctly, safely and comfortably. By carrying your tanks on your sides instead of your back it will reduce drag making your dives more comfortable.
Trim your weight system and Sidemount gear so you're perfectly balanced in the water.
Manage gas by switching second stages as planned, if wearing two cylinders.
Respond correctly to potential problems when Sidemount diving. For example if you plan to use Sidemount for a boat dive he will best advise you in making sure you will be able to quickly secure and release tanks on a moving platform or in choppy conditions.
No excuses! Sidemount is suitable for recreational scuba diving, so contact us today to find out how you can book, and gain your specialty in Sidemount Diving and get the best out of your dives!
Get credit! The first dive of this PADI Specialty Diver course may credit as an Adventure Dive towards your Advanced Open Water Diver certification – ask your instructor about earning credit.
Why not combine the Sidemount Course with an Enriched Air Nitrox (EAN) Course to get the most benefits of this way of diving, extending your bottom time.