We have all made New Year's resolutions at some point in our lives, it's a nice tradition and gives us certain goals to reach
.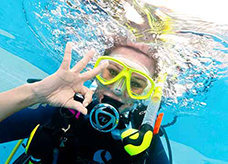 It's not too late to add one more to your list. Why not this year make one of your resolutions to change your life and bring some adventure into it, along with experiencing the peaceful & amazing underwater world, meet new friends above and below the water. It's easy, all you need to do is learn to Scuba Dive.
Scuba Diving has become an extremely popular & trendy activity with a lot of people, even amongst the stars for example, Tiger Woods, Kevin Costner, Tom Cruise, Kate Moss, Cameron Diaz, Jessica Alba & Sandra Bullock along with many more. And they all Scuba Dive for the following reasons;
It opens us up to a whole new world of meeting new people, it also gives us the opportunity to meet and experience a fantastic array of marine life and be part of their world.
The feeling of "weightlessness" is completely de stressing & relaxing, no mobiles or emails under water, so you cannot be disturbed, complete time out, which is why most people dive.
It helps us to keep fit by using all of our bodies muscles, even though it feels like you are not really working out you do burn calories, the fact that you are wearing a neoprene suit means you are sweating without realising it, and just by kicking your fins to pull you forward, it is using your bodies strength & stamina (cardio) all this without the hard work out you need to do in the gym, in fact PADI have been researching this and estimate that a 30 min shore dive in temperate water can  burn through as many as 300 calories, which is the same as jogging but with out the hard sweat!
Diving also teaches you new skills, how to put a set scuba gear together, how air and pressure change underwater and how you can adjust for this, you also learn around 20 signals underwater enabling you to communicate with your buddy and dive leader. These skills are great to learn for all ages, especially children (8 is the earliest you can learn to dive, in the swimming pool with the PADI Bubble Maker program, 10 is the minimum age you need to be to gain your first PADI certification level)