PADI Diving Courses with Dive In Limassol
Start your underwater adventure with a PADI Course to become a qualified diver. Or increase your diving experience with a further qualification. We do all Courses up to Instructor Level! Contact us today to arrange to Dive In with Dive In!
Go Digital With Dive-In

Make life easy! do your course theory in the comfort of your own home, or around the pool with your iPad/Andriod device.
Get complete support from us when ever you need it.
Contact Us For Details On Your Digital Learning Options & How To Get Started With PADI eLearning or Touch.
Open Water Diver
Advanced Open Water
Rescue Diver
Enriched Air (Nitrox)
Digital Underwater Photographer
Scuba Tune Up
Dive Theory
Dive Master
&
Instructor

Just How Far Will You Go!
Specialties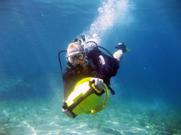 Getting a PADI specialty Is a fantastic way to enhance your diving experiences.
At Dive-In we have a full range to offer you. You might even like to think about getting your Master Scuba Diver qualification.
Check Out Our Specialities Below.
Sidemount
Full Face Mask
DPV
Wreck Diver
Deep Diver
Peak Performance Buoyancy
Navigation
Nitrox
Night Diver
Underwater Photographer
Boat Diver
Search & Recovery
Videograpy
Underwater Naturalist
DSMB Deployment
Suunto Computer Assisted Diving
Oxygen First Aid
Equipment Specialist
Hyperbaric Chamber
Aware Fish Identification
Coral Reef Conservation
Project Aware Fish Identification
Please note there are some prerequisites you may need prior to starting some of the above specialties.
Clicking On The PADI Logo Below Will Take You To The PADI Site. Opens In A New Window.

Social Media
Follow Us & Keep in touch!



We also a have a Blog site, updating you on all of our latest news. The Blog also has a page giving tips on diving as well as purchasing, maintenance and reparing your equipment.
Click here to visit www.dive-in-limassol.com/blog
Dive In Limassol PADI Courses
Why Train With Dive In?
We are a PADI 5 Star Instructor Development Centre, one of the highest Centres in The PADI System and with in Cyprus
A PADI Award Winning Diving Centre for our "Outstanding Contribution to the Diving Industry" by the CEO of PADI Worldwide
During our 27 years in the diving industry we have trained over 11,300 PADI Divers and 1,530 PADI Instructors.
We actively encourage learning in a safe environment with a team of dedicated, experienced and multi lingual professionals, employed to help your training and diving go as smoothly as possible. All our teaching and training is carried out adhering strictly to all official PADI standards as follows;
DSD - 1 Confined Dive* & 1 Open Water Dive
Scuba Diver - 3 Confined Dives* & 2 Open Water Dives
Open Water - 5 Confined Dives* & 4 Open Water Dives
*Confined water in The PADI Instructor Manual is defined as "Swimming pool-like conditions with respect to clarity, calmness, and depth." It is unfortunate that it is very rare that the sea in Limassol is considered to be compatible with swimming pool like conditions as per PADI Standards. Unlike other Dive Centres Dive In only teaches Confined water sessions in a swimming pool for your comfort, safety and to hit PADI Standards. And we are proud to have an unblemished safety record.
Learning To Dive Has Never Been So Easy Than Using The Digital System From PADI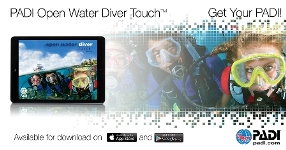 You can now complete the knowledge part of your Open Water Course with an iPad or Tablet using the new PADI Touch system of learning.
Watch the video below to check it out!
Then simply download the Touch App by clicking on our link (Get Started) just below the video, then follow the instructions from PADI. Internet access is only required to download the App and upload your quizzes and the final exam. (Touch is subject to language availability)
PADI Touch APP demonstration video.
Click On The Get Started Link Below And Start Your Adventure!

If you don't have an iPad or Tablet don't worry you can still do your knowledge before your vacation with eLearning, using your laptop or a computer, but you will need to be conected to the internet at all times. Just Click On The (Get Started) Link Above
Scuba Diver (10 Years & Over)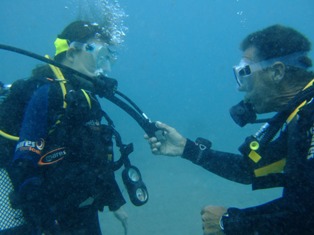 There are some truly beautiful and amazing places in The World that we can now travel to and explore, why not expand your ability for adventure and visit The Underwater World. Experience some of the most beautiful marine life and corals that our seas have to offer.
The PADI Scuba Diver Certification is the ideal PADI Qualification for those of you with limited time but really want to learn to dive. The course takes 2 - 3 days, and covers some dive skills in the swimming pool, some knowledge on areas such as buoyancy, aquatic life, keeping warm underwater and a few other topics. This is then followed by two open after Dives in the bay.
A PADI Scuba Diving Certification will qualify you to dive to 12 meters and you MUST dive with a PADI professional (Dive Master, Assistant Instructor or Instructor) at any PADI centre around the world.
The PADI Scuba Diver Qualification is a fantastic quick way to kick start your diving adventures, and you can upgrade to Open Water Diver when ever you like by finishing a few required dive flexible skills, learning a little more knowledge about diving and then just a few more open water dives.
So why not contact us today to speak to a member of the Dive-In team and bring out the adventure in you!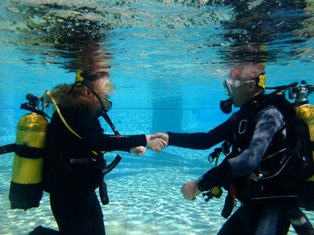 Open Water Diver
The PADI Open Water Diver Certification is the most popular Diving Qualification, it has introduced millions of people all around the world to Scuba Diving. A level up from PADI Scuba Diver, this course takes 3-4 days and Includes a little more knowledge development building on from the Scuba Diver Certification for example dive planning. As an Open Water diver you will be qualified to dive with another PADI Open Water diver and so being able to plan your own dives correctly is a key part to safety and enjoyment from each dive that you do.
You will also complete 5 confined water training sessions as well as two more 4 open water dives. Why not do all the theory side before you travel with PADI eLearning or Touch, then on holiday all you have to do is the fun part, getting wet!
PADI eLearning & Touch can be purchases as a gift for someone. What a great idea to give someone the gift of adventure, excitement and simply breath taking experiences in The Underwater World.

Let PADI inspire you! See their video below
Children will be qualified as Junior Open Water and for ages 10-11 they are restricted to a depth of no more than 12 meters/40ft and MUST dive with a qualified parent, guardian or PADI Professional. At the ages of 12-14 the depth restriction is increased to 18metres/60ft but they MUST dive with an Adult Certified Open Water Diver.
Adventure Diver
Take your diving to another level with the PADI Adventure Diver Certification, you will also get the chance to meet and dive with our friendly Grouper on the Local Limassol Wrecks.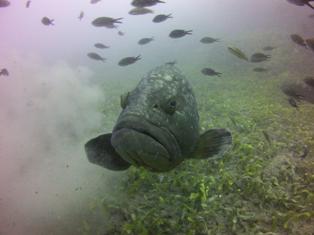 The Adventure Diver Course is ideal for those who are short of time on their holiday but want to continue their PADI Education. With this Certification with Dive In Limassol we can certify you as part of your Adventure Diver to dive to 30 meters. Adventure diver is only 3 dives, firstly a shore dive in which we suggest Peak Performance Buoyancy followed be 2 boat dives to the Limassol Wrecks. One dive being Wreck and the other Deep. After this all you will need to do to become and Advanced Diver is to do a Navigation dive and one other of your choice at any time in the future with any PADI Dive Center.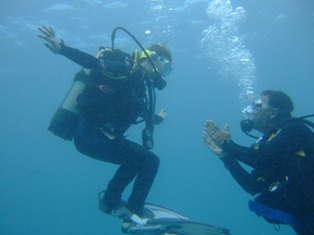 Advanced Open Water
Continue your diving education by becoming a PADI Advanced Diver, this course consists of 5 dives, and 5 knowledge reviews. One of the dives has to be Navigation, and another must be a Deep Dive, max 30m. The other 3 are for you to decide! But we suggest Peak Performance Buoyancy and Wreck, this way you will get to complete your course on a choice of wrecks either the 'Zenobia' (more info by clicking here) or our two new Wrecks in Limassol 'Lady Thetis' & 'Contandis' (more info by clicking here)
Children must be 12 & over to take the course, once completed they will be able to dive to a maximum of 21 meters up to the age of 15. For ages 15 & over you will be qualified to dive to 30 meters
Still deciding, then why not do all the theory side before you travel with PADI e-learning. Once on holiday all you have to do is the fun part, getting wet!
PADI e-learning can also be purchased as a gift for someone. What a great idea to give someone the gift of adventure, excitement and a simply breath taking experiences in The Underwater World.

See the PADI Advanced Open Water Video Below
Contact us today to speak to Dive-in member of staff who will be able to advise you on any queries you may have, and also give you the information on using e-learning.
Prerequisites
In order to take a PADI Advance Diver certification you must have your PADI Open Water Diver Certification, or equivalent. You must also be at least 12 years old. (12-14 year olds earn Junior AOW)
Rescue Diver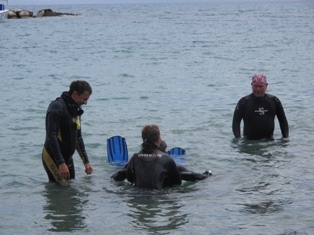 If you are looking for another level in your diving experiences, and want to build on your knowledge in diving then Rescue Diver is for you. Its a great course, it is demanding but also fun & rewarding, it teaches you how to prevent problems during a dive, and if problems should develop you will be able to handle them confidently in an effective & safe manor.

Nearly every diver that has done this course will tell you that its fun, acting out scenarios in the bay, being faced with challenges and learning how to master them.

On this course you will learn the following:

Self rescue, recognising and managing stress in other divers, emergency management and equipment, rescuing panicked divers, rescuing unresponsive divers.
PADI e-learning can also be purchased as a gift for someone. What a great idea to give someone the gift of adventure, excitement and a simply breath taking experiences in The Underwater World.

The PADI Rescue Diver Course Is Very Rewarding & Fun!
Prerequisites
In order to take a PADI Rescue Diver course you will need to be 15 years old (12 for Junior Rescue Diver) already have your PADI Advanced Open Water, or equivalent. You must also be trained and current in first aid and CPR with in the previous two years. Please see our Emergency First Response CPR and EFR pages. Click here.
Master Scuba Diver
With five PADI specialties, and a minimum of 50 logged dives you can get the highest non professional level qualification in PADI (Master Scuba Diver) this qualification opens up even more adventure, giving you the training and experience across varied dive sites.
Prerequisites
You must be 12 years old, and have already qualified as Open Water Diver, Advanced Diver, and also have completed your Rescue Diver Certification.
Contact us for more information on any of the above courses. We can also advise you on PADI'S new eLearning system.