Diving In Limassol, Cyprus With Dive In
Based at The Four Seasons Hotel, The Mediterranean Beach Hotel and The Amathus Hotel. Diving in Cyprus is ideal for the beginner & taking those first breaths underwater through to experienced and qualified divers. Contact us today to arrange to Dive In with Dive In!
First Breaths Underwater
Bubble Makers & Discover Scuba Diving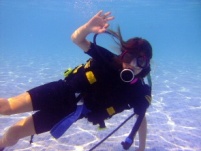 An amazing underwater world exists out there. Colorful Coral, and beautiful Aquatic Life.
Courses & Specialties
Let The Adventure Begin!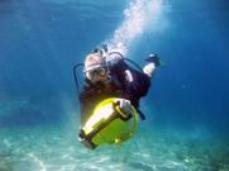 Getting a qualification in Scuba Diving has never been easier, especially with PADI'S new eLearning system in place. You can learn the theory part of your course at your own pace.
If already qualified then why not add some specialties to your diving.
Go Pro
And Live The Dream
Get A PADI Teaching Qualification and Travel The World, it will open up all sorts of exciting new experiences meeting new people & seeing new places!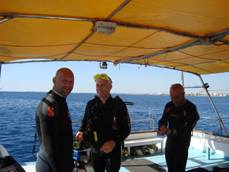 Take your Scuba Diving to a whole new level and join the 1000's of Dive Masters, Assistant Instructors & Instructors already working around The World, leading dives at some of the most beautiful underwater locations. As a PADI instructor you will also get the opotunity to introduce diving for the first time to 100's of people, giving them a wounderful gift of being able to explore the underwater world for themselves.
Dive In runs 4 PADI IDC's Each Year In Cyprus
The PADI Instructor Development Courses we run in Cyprus train you to become a highly sought after Instructor, not only will you get some of the best PADI Training, but we prepare you to become a Master Scuba Diver Trainer, with 5 Instructor Specialities. This will help you to secure your first job as a PADI Instructor. Dive In trained Instructors are highly regarded with in the Industry, due to the thorough training you receive.

Wrecks
Get A Deep & Wreck Specialty!
At Dive In we can offer you a truly memorable experience diving one of The Top 10 Wrecks In The World, 'The ZENOBIA' (pictured below) We also have two wrecks that were sunk on February 22nd 2014 (pictured below) as part the new artificial reef program by the Ministry Of Fisheries, here in Limassol.
Click on the pictures below to find out more detailed information about these fantastic and memorable wreck dive sites.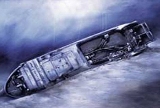 'ZENOBIA'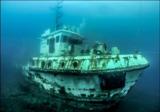 'LADY THETIS'
'CONTANDIS'
contact us today to find out how you can experience some underwater history.
Diving & Snorkeling
Fun For All The Family!
At Dive In we not only concentrate on divers, but also those out there where diving just isn't for them.
We can offer local trips for divers & non divers which combines a site seeing tour of Limassol from the boat.
So whether its diving or snorkeling you prefer contact us today and arrange to hit the waves in our purpose built Diving Catamaran, Aquacat II
We can also arrange luxury boat trips, for diving, snorkeling or just a a leisurely sea experience.
contact us and let us arrange your holiday fun!
News & Events
Dive In's Blog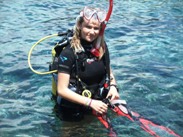 The latest information on diving related news from Dive In in Cyprus. We'll update you on all our latest diving trips, and underwater adventures.
We will also from time to time run special promotions to, as well as tips on diving equipment purchase and repair. Visit our Blog to find out more.
You can also keep in tourch and follow us on Facebook, Twitter and Instrogram.


To see our reviews, or why not even write a review? just click on the Trip Advisor logo,below.

Welcome To Dive In Limassol, Cyprus
Proudly Serving The Diving Industry For 27 Years.
Get Wet With The Best!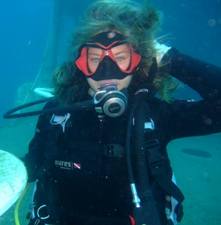 Dive-In Limassol, a PADI 5 Star Instructor Development Centre has been based at The Four Seasons Hotel since 1994, The Mediterranean Hotel since 2000, and since 2014 we are in The Amathus Hotel as well. We are acknowledged by PADI for our excellent training record and diver safety record.
Dive In Limassol is an Award Winning Centre having been Awarded PADI's most prestigious accolade for our "Outstanding Contributions to the Diving Industry" by the CEO of PADI Worldwide, Drew Richardson. In addition to this Dive In Limassol has also been audited by Tour Operators for Health and Safety Compliance under Excursion Safety Practices for Scuba Diving and passed with a score of 99%!
In both 2019 and 2020 Dive In was awarded The Best Dive Operation in Cyprus from the Travel & Hospitality Awards as well as from the Luxury Travel Guide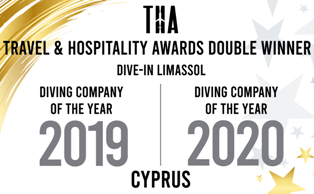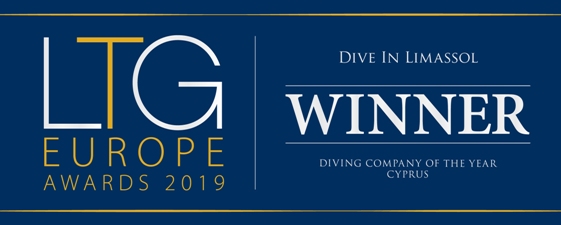 Dive In runs 4 PADI IDC's in Cyprus (Instructor Development Courses) training divers to become a PADI Professional Diving Instructor. So far during our 27 years in the diving industry we have trained over 11,300 PADI Divers and 1,530 PADI Instructors who are now all working around the World, enjoying different countries above and under the water.
Our Four Seasons Dive Centre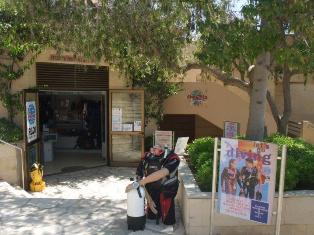 Happy Smiling Open Water Divers Celebrating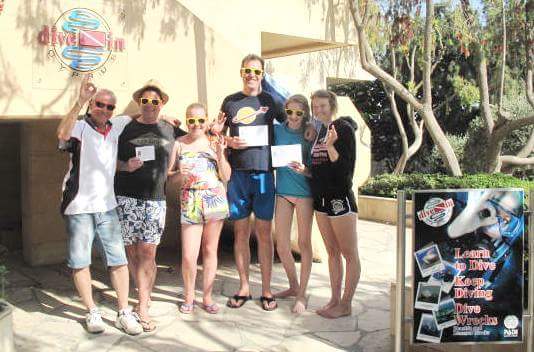 All of our courses provide our customers with a lifelong skill that encourages learning and personal development, whilst experiencing new adventures and having fun.
Watch PADI'S exciting video below.
We actively encourage learning in a safe environment with a team of dedicated, experienced and multi lingual professionals employed to help your training and diving go as smoothly as possible. Our Instructors and staff are employed not just for their paper credentials but for their love of the sport, their respect for the environment, and their proven track record in teaching and customer service. We offer the full range of PADI Courses and our passion for Diver Training covers all aspects from Recreational through to all Pro Levels. At Dive-In we often decrease the course ratios to allow for enhanced safety and learning.
Dive-In is proud to have our own highly experienced PADI Course Director who has been with us for many years. We are so sure of our training that we even offer a Guaranteed Pass at the PADI Open Water Instructor Exams that are held 5 times a year in Cyprus.
We have probably the best compressors on the island, and our air is tested each quarter for purity. In addition to this we have a large stock of dive equipment and are able to facilitate large groups. Should you not be staying in our Hotels, we offer a pick up and drop off service within Limassol.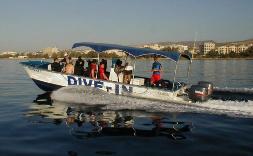 Our purpose Built Dive Boat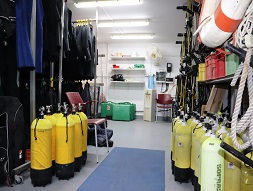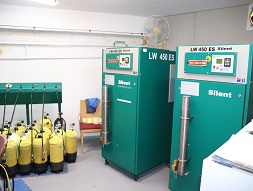 We Are Able To Cater For Large Groups
Mares & Apex Equipment
We also specialise in selling Mares Diving Equipment, Suunto Dive Computers as well as Apex Regulators